PADI ADVANCED OPEN WATER DIVER TRAINING
PADI ADVANCED OPEN WATER DIVER TRAINING
PADI advanced open water training is the second step after the completion of the first training. This training enables you to have knowledge and experience in various diving environments. It provides experience and confidence.
---
This course consists of two parts.
Training program;
Theoretical Section
The training is given by The PADI Dive Instructor with video programs and educational books. The program includes Underwater Navigation, Night Dive, Deep Dive, Boat Dive, Current Dive, Multi-level Dive, Search and Recovery Dive, Nature Science Dive, Wreck Dive trainings.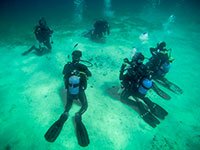 Offshore Trainings
There are 5 dives in this training. Two of these dives are mandatory (Navigation Dive and Deep Dive). The other three dives are selective. The purpose of Navigation Dive is using the compass underwater to find the direction. Deep Diving is Max. 30mt.
Training Participation Conditions
To have a certificate equivalent to PADI Open Water Diver Certificate (ex: CMAS 1 Star) and do not have a health problem which prevents from diving.
Training Date and Time
(For training days and hours, please contact our dive center)
Wednesday : 19:30 – 22:30
Thursday : 19:30 – 22:30
Price
2.750 TL
The Price Includes
6 hours of theoretical training in 2 days, original PADI course booklet, ID costs, and VAT.
The Price Not Includes
Offshore trainings
Facebook
---
Buy Now